---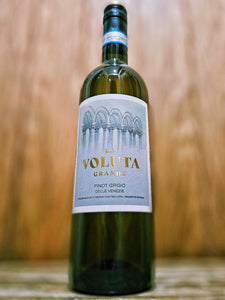 Fine Wine from Our Bottle Shop and Taproom:
Voluta Grande Pinot Grigio - Voluta Grande Pinot Grigio is a deliciously fresh and zesty Pinot Grigio from selected vineyards in the Veneto.
A fresh, dry white with stone fruit and citrus aromas and lightly spicy notes. Crisp and delicate on the palate with some honeyed fruit balanced by lemony acidity, minerality and a fresh, dry finish.
A highly versatile dry white, ideal as an aperitif or to accompany foods such as seafood, grilled fish, salads and cold white meats.
PRODUCT DETAIL.

STYLE:
White

BOTTLE SIZE:
75cl
ABV:
12.5%
ORIGIN:
Italy
SERVE:

TBC