---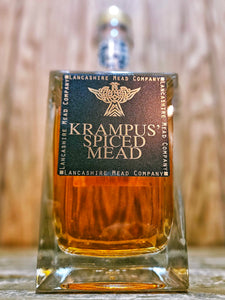 Artisan Spirits from Our Bottle Shop and Taproom:
 Krampus joins St Nic in his yearly visit. Whilst St Nicholas rewards the good with gifts and treats, Krampus punishes the bad.
In some cases, he leaves coal, but the naughtier ones are stuffed into his sack to be carried away to hell.
The addition of festive spices to the original Ægir recipe, produces a unique taste identical to that of mince pies!
Due to the spices contained within this mead, it is the only light recipe that does not like being served cold.
Enjoy at room temperature or warmed in place of a mulled wine. Loves being added to chicken and fish dishes, stir-frys or cakes.
 

PRODUCT DETAILS

STYLE:
Mead
BOTTLE SIZE:
70cl
ABV:
14. 5%
ORIGIN:
Lancashire 
SERVE:
TBC