---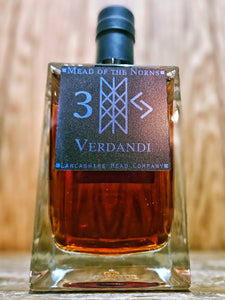 Artisan Spirits from Our Bottle Shop and Taproom:
Verdandi is the name of one of the three female beings who create and control fate. They were very powerful entities in the cosmos. 
This mead is a wild fermented (no yeast is added) 'hydromel' (pure honey mead), using Wildflower honey. Aged for 3 years. This gives it a medium sweet taste and is suitable for drinkers of white wine and also for the purists among mead drinkers.
Can be served however you wish –chilled, over ice, room temperature or warm. Loves to be paired with desserts.
PRODUCT DETAILS

STYLE:
Mead
BOTTLE SIZE:
70cl
ABV:
14. 5%
ORIGIN:
Lancashire 
SERVE:
TBC