---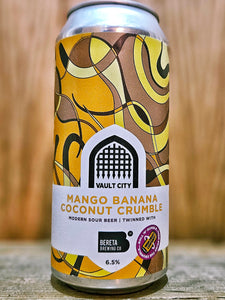 Fresh Craft Beer from our Bottle Shop and Taproom:
'High fruit content – Roll 'n' rumble, then enjoy the crumble'. For this one we'll leave the shake to wake warning on.
Thicc, juicy and absolutely bursting with fresh fruit flavour – our smoothie sour collab with Bereta Brewing Co. features a tropical blend of rich mango and ripe banana.
Lashings of coconut and biscuit flavours create a dessert-like decadence, while vanilla and lactose amplify the sweet, creamy mouthfeel in every sip.
PRODUCT DETAILS

STYLE:
Sour
ORIGIN:
Edinburgh
SIZE:
440ml Can
ABV:
6.5%
HOPS:
TBC