---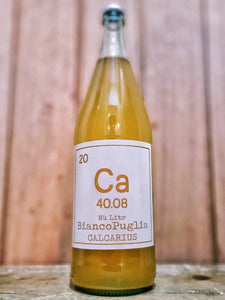 Fine Wine from our Bottle Shop and Taproom:
Nù Litr Bianco is a wine with low alcohol content and very fruity, long and elegant acidity, easy to drink. Precise finish where citrus flavors like lemon and orange are clearly distinguished. Liter bottle.
Bombiono Bianco grapes and is part of the Calcarius Project, born from an idea of ​​Valentian Passalacqua with Danilo Marcucci. The grapes come from young vines located within the Gargano National Park on rocky limestone white soil, and bred with biodynamic methods. Spontaneous fermentation with maceration on the skins for 7 days in open vats with manual hat breakage. Unfiltered and clarified wine with winter racking in steel containers.
PRODUCT DETAIL0.

STYLE:
Natural White
BOTTLE SIZE:
100cl
ABV:
10.5%
ORIGIN:

Italy

SERVE:

Wine to pair with pasta dishes with vegetables, semi-seasoned cheese dishes, to try with gnocchi with radicchio.