---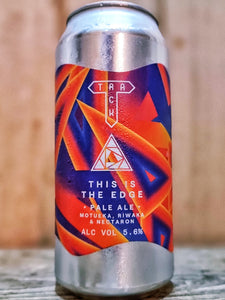 Fresh Craft Beer from our Bottle Shop and Taproom:
A collaboration with our pals at Glasshouse Beer Co, hailing from Birmingham who are making some truly excellent beer. We've been particularly impressed with their mid-strength hop-forward offerings, combining massive drinkability and hop impact in beers <6%. So it was no surprise when we got our heads together, that we decided on a 5.6% Pale Ale.
Motueka, Riwaka & Nectaron lead the dry hop for a bright, mouthwatering aroma. On first taste, you're met with bright lime zest, followed immediately with the unmistakable qualities that Riwaka brings (make up your own mind on diesel/bacon frazzles), and finishing with a beautiful fresh navel peach.
PRODUCT DETAILS

STYLE:
Pale Ale
ORIGIN:
Manchester
SIZE:
440ml Can
ABV:
5.6%
HOPS:
Motueka, Riwaka, Nectaron