---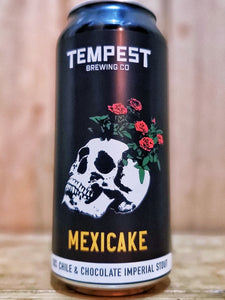 Time for a proper fiesta!
After brewing Mango Berlinner, Tempest thought to make something that was its complete opposite. Something dark, rich, and packed with big, bold flavours. The discussions led us to a "Mexican Cake" concept, brewing an imperial stout and adding cinnamon, vanilla, cocoa, and chillies. And what a beer it turned out to be!
The aroma is mouthwatering, with hints of the vanilla and cocoa used in the brew and a soft cinnamon to prepare you for the taste. One sip and you'll get that smooth, velvety texture that perfectly complements the slight roast flavour from the malt and deep chocolate notes. Two sips, and your mouth will be enveloped in the complex spice notes from the cinnamon and chillies; we used Mulato and Chipotle chillies for a slight fruitiness and to add depth to the spice. In the finish of the first few sips, you'll notice a very low warmth from the chillies and the last mingling hints of the cinnamon and vanilla making you want even more.
PRODUCT DETAILS

STYLE:
Imperial Stout
ORIGIN:
Scotland
SIZE:
330ml Can
ABV:
11.0%
HOPS:
North American , Columbus
FOOD PARING:
It pairs beautifully with puddings, and for a summer time twist it works surprisingly well as an ice cream float. Grab a bottle, laze out in the sun, and enjoy our Mexican inspired dessert in a bottle.