---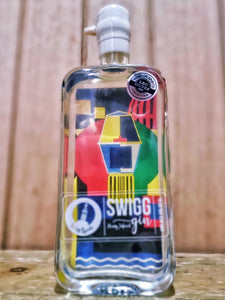 Artisan Gin from our Bottle Shop and Taproom:
SWIGG Spirits are hand crafted, small-batch spirits from South Wales: made with locally sourced ingredients & botanicals.

SWIGG is named after a buoy in the bay of Swansea & stand for 'South West Inner Green Grounds'. This buoy is a landmark for a farm, forests & village called 'Green Grounds' that got washed away by a tsunami in 1607, with many lives lost.

For centuries many a timid local child will have been scared by the phrase, 'You can hear them out on Green Grounds'. The design & colour of their bottles reflect the colours & shapes of that of SWIGG buoy.
From Swigg Gin comes this silky, subtly sweet expression, having been infused with Welsh honey! There's also some Moorland heather in there too, making for a light, fragrant tipple. 
PRODUCT DETAILS

STYLE:
London Dry
BOTTLE SIZE:
70cl
ABV:
43.0%
ORIGIN:
Wales
PERFECT SERVE:
A proper Indian tonic, lots of ice and a wafer thin slice of Orange. 
BOTANICALS:
Juniper, Angelica Root, Honey, Heather, Angelica Root