---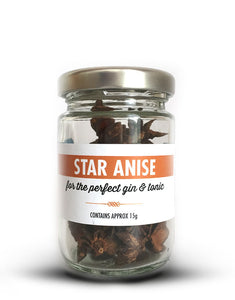 For those looking for sweeter flavours in their Gin & Tonic, add a "special touch" with Star Anise which provides an interesting element with citrus aromas and flavours.
Star anise, as its name suggests, is indeed star-shaped, consisting of the small, distinctively-shaped, brownish-red coloured, dried fruits of the Illicium verum tree, thought to be indigenous to China, where it is largely cultivated. Its flavour has both aniseed and liquorice notes, due to the fact that it contains anethole.
Star anise is a key spice in Chinese cuisine, adding its distinctive warm, sweet taste to 'red-cooked dishes' such as red-cooked pork hock. Red cooked dishes are dishes using an aromatic braising liquid, made from soy sauce, stock, water, rice wine, sugar, mellowed and flavoured by aromatics including star anise, cassia, fennel seeds and dried orange peel.
PRODUCT DETAILS

PACK SIZE:
15g
ORIGIN:
China