---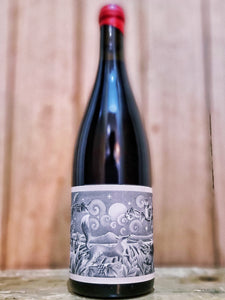 Fine Wine from Our Bottle Shop and Taproom:
Garnache Grape
Mediterranean climate is tempered by the altitude of the area with short but harsh winters with snow episodes and warm summers during the day and cool at nights so
a factor that positively favors grapes quality. The vineyards are located at an altitude
about 600-900m above sea level. Agriculture with vessel training and loamy soils with
good drainage.

Parcels protected by Sierra de las Cabras, there is several flora and fauna species that
favors nutrients incorporation, also natural yeasts that will intervene in the vinification.
Elaboration method is very traditional mixing destemmed grapes with 50% of
whole bunches. Fermentation process is made in limestone tanks from a quarry near the winery with 2 daily pumpovers.

Average maceration of 10 days. After pressing, wine goes to an oak foudre where alcoholic fermentation ends and the malolactic fermentation takes place.
After a slight clarification bottling is madewithout filtering.

TASTING NOTES
Intense and attractive rubie red color.

On the nose, fresh and ripe red fruit stands out with a great cleanliness and sharpness.

On the palate it is fresh and light but with good structure. Balsamic with Rosemary,
thyme and pine needles aromas. Easy and fruity wine to accompany our appetizers and
dishes everyday.
PRODUCT DETAIL0.

STYLE:
Bold Red

BOTTLE SIZE:
75cl
ABV:
13.5%
ORIGIN:
Italy
SERVE:

TBC