---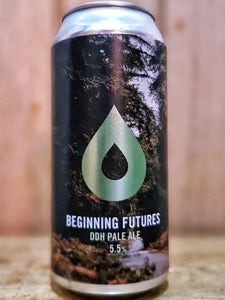 Fresh Craft Beer from Our Bottle Shop and Taproom:
It might just be us, but we find our DDH Pale Ales sing at their highest when the dry hop charge consists of three different varietals. Beginning Futures is a beer we've employed this theory on with aplomb, and boy does everything seem to be working in perfect harmony with one another.
A baby addition of Talus brings gentle pink grapefruit, dried roses, citrus rinds and just the slightest whisper of sage herbal complexity, before equal 20kg additions of Mosaic and Idaho 7 bring the Polly's new school juice to the table with abundance. Taking this to an extra level with Simcoe Cryo in the whirlpool, we've been able to bring a crisp bitterness to this beer, whilst maintaining the ultra fluffiness from our in-house LA3 yeast strain. Bangin'.
PRODUCT DETAILS

STYLE:
DDH Pale Ale
ORIGIN:
Flintshire, Wales
SIZE:
440ml Can
ABV:
5.5%
HOPS:
Simcoe, Mosaic, Idaho-7