---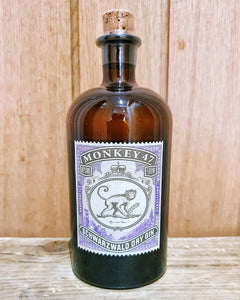 Monkey 47 Schwarzwald Dry Gin is distilled from a huge 47 botanicals and has high ABV of 47%. It is distilled in the Black Forest Germany from molasses instead of grain and has complex flavours although it seems to be quite citrusy central.
The story goes that this recipe can be traced back to a former British RAF officer, Wing Commander Montgomery Collins who in the 1950's went to live in the Black Forest with the dream of being a watchmaker. Unfortunately he wasn't very good so opened a guesthouse instead called 'The Wild Monkey' after a monkey he had sponsored at the Berlin Zoo after the war. It was then he began making English Gin sourcing lots of local ingredients. This recipe has been recreated by the founders of Monkey 47 and they distill the spirit for three months in earthenware crocks before it's reduced for bottling.
A distinctive gin with a monkey's tail!
PRODUCT DETAILS

STYLE:
London Dry
BOTTLE SIZE:
50cl
ABV:
47%
ORIGIN:
Black Forest, Lossburg, Germany.
PERFECT SERVE:
Lots of ice and a lemon slice and either an aromatic tonic like Fever-Tree Mediterranean or Fever-Tree Indian Tonic.
BOTANICALS:
Juniper berries, pine needles, cranberries, coriander, lavender, peppers, cloves, lemon peel, grapefruit peel and cinnamon etc…. Approx half the botanicals come from the Black Forest!