---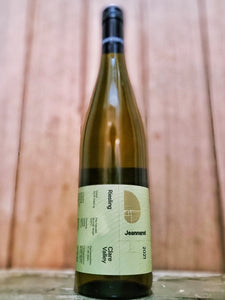 Fine Wine from our Bottle Shop and Taproom:

When winemaker Ben Jeanneret looks at vines, he starts to see personalities and individualities between the grape varieties. Some are look like girls while others are more masculine. Riesling, to Ben, is defintely a girl, and the fruit they produce makes big and fine wines that explode with flavour, yet maintain a complexity and elegance unlike any other grape variety.

The 2020 BFG has a beautifully generous nose of apple, apricot, lychee and pear with the palate following suit with buckets of beautifully fresh, vibrant and zingy fruit; apples, lemons and blackcurrants at their mouth-watering best. And as it warms, you might see a little white peach too. Gorgeous to drink on its own but with a weight of fruit that makes it an excellent match for food.

Perfect with Kingfish Ceviche, fresh lime, Vietnamese mint and chilli. Or simply pair it with fish and chips straight out of the paper.

PRODUCT DETAIL0.

STYLE:
Reisling

BOTTLE SIZE:
75cl
ABV:
12.5%
ORIGIN:
Australia

SERVE:

TBC