---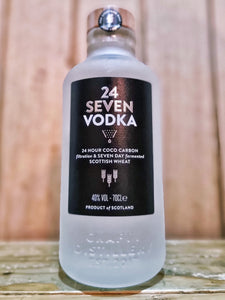 Artisan Vodka from Our Bottle Shop and Taproom:
The lovely folk at Crafty Distillery are definitely not suggesting anybody should drink hard liquor 24/7. However, they have created a vodka that's great at any time of the day…

24 Seven Vodka takes its name from the seven-day fermentation and the 24-hour filtration processes involved in its production. That long fermentation extracts the maximum character from the local wheat and the slow filtration through coconut shell carbon creates crystal-clear purity. The first thing you'll notice is the stunning mouthfeel, 24 Seven Vodka is so rich and creamy. Next comes the taste; there's soft and subtle notes of cream soda, salted caramel, toffee and biscuit. We recommend sipping it over ice or serving it straight from the freezer, but it can also be used in classic cocktails, especially a Martini. We've got so much time for this, which is maybe another reason why it's called 24 Seven.

Crafty Distillery are a no-nonsense operation inspired by the peaceful forests, coastlines and panoramic hills of Dumfries and Galloway. Based in Newton Stewart, these Gallovidians make small batches of their own wheat grain base spirit in a 250-litre pot still. Not interested in jargon, highfalutin ways and overly elaborate cocktails, all they want to do is make a high-quality, grain-to-glass spirits that introduces the drinker to their beautiful, remote and scenic corner of Scotland.

New releases from Crafty Distillery come in a rather nifty bottle. 30% lighter by design, it uses less energy in production, shipping and recycling. The short neck and wide mouth open up a world of up-cycling opportunities and the natural wood and cork stopper doubles up as a measurer (just fill it twice for the perfect 25ml).
PRODUCT DETAILS

STYLE:
Premuim Vodka
BOTTLE SIZE:
70cl
ABV:
40%
ORIGIN:
Scotland
PERFECT SERVE:
Straight, with tonic or for the perfect cocktails