---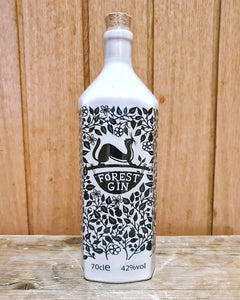 Forest Gin is a hand-crafted, small-batch gin that is produced using a range of botanicals native to Macclesfield Forest.
Lovingly crafted by husband and wife team Lindsay & Karl Bond, the locally sourced ingredients include a range of foraged forest botanicals including wild Bilberries, wild Gorse Flowers, wild Raspberries, and local Moss – which is combined with organic certified juniper berries and organic certified coriander seeds. These are mixed with neutral grain spirit and the softest, purest local spring water to give a Premium London Dry Gin of outstanding quality.
Incredibly fresh and complex, this gin is packed with flavour, and is delicious to enjoy either neat or mixed with tonic water.
'The finest gin deserves a beautiful bottle.' Forest Gin
In a desire to try to source our ingredients and materials from within the local area, the natural vessel to hold our Gin is Staffordshire Porcelain.
Since 1810, Wade Ceramics have been crafting the highest quality ceramic products, with their items being renowned and collected all over the world. They make these bespoke bottles for us using many traditional methods, and the final bottle is fully vitrified, meaning they are fired to a temperature which ensures the porcelain will not absorb any moisture, flavour, odour or stains.
The Forest Gin Artwork is a one of a kind commission by the respected Papercut artist Suzy Taylor. Suzy hand cuts all of her artwork from a single piece of paper using a scalpel and a magnifying glass in a painstaking process.
The team at Wade then apply the artwork by hand to each bottle. The final piece is a practical, yet beautiful, porcelain decanter, which they hope that you will re-use and treasure for years to come.
Now that is 'artisan' from start to finish!

As seen on BBC1 TV 'Countryfile' 2015.
PRODUCT DETAILS

STYLE:
London Dry
BOTTLE SIZE:
70cl
ABV:
42%
ORIGIN:
Macclesfield, Cheshire, England
PERFECT SERVE:
A sprig of Rosemary, a sliver of Grapefruit peel and a good quality tonic water.
BOTANICALS:
Wild Bilberries, wild Gorse Flowers, wild Raspberries, and local Moss are blended with several other fragrant botanicals.