---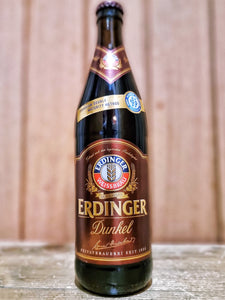 Carefully selected dark malts with delicate roasting aromas give ERDINGER Dunkel its full-bodied flavor and strong character.
This elegant wheat beer has a lustrous, deep dark-brown appearance in the glass. The first sip reveals a harmonious symphony of carefully selected wheat and barley malts with exquisite Hallertau aroma hops. The taste buds detect hints of caramel, nuts and fresh bread. An unmistakable top-fermenting accent is provided by ERDINGER's traditional yeast.
ERDINGER Dunkel first saw the light of day in 1989, when ERDINGER's master brewers created a dark wheat beer as a birthday present for the private brewery's owner, Werner Brombach. He liked it so much that he decided to put it on the market in 1990.
A specialty beer for connoisseurs.

PRODUCT DETAILS

STYLE:
Wheat Beer
ORIGIN:
Germany
SIZE:
500ml Bottle
ABV:
5.3%
HOPS:
TBC
FOOD PAIRING:
The strong, refreshing flavour of ERDINGER Dunkel is particularly well suited to game dishes. This spicy, dark beer can also be used to marinate steaks and other meat dishes – giving them a unique and distinctive flavour.