---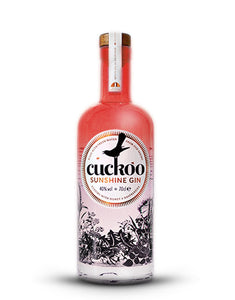 "Hello, Sunshine", that unmistakably endearing Lancashire term used to greet a loved one helped inspire our third Cuckoo Gin expression.
Working alongside the Bee Centre in Samlesbury, Lancashire, Cuckoo Sunshine Gin is made with natural honey produced on our farm by Lancashire Honeybees. Honey as a substitute to sugar helps create a smooth and sweet gin and a burst of fruit from raspberries that have been infused provide an instant taste of sunshine!
This is a traditionally distilled gin, which is strong on juniper and lemon, almonds and vanilla give a creamy, nutty and sweet taste, whilst angelica, orris, cinnamon and orange keep it nice and traditional.
Kick off your flip flops, chill out and enjoy

PRODUCT DETAILS

STYLE:
Contemporary
BOTTLE SIZE:
70cl
ABV:
40.0%
ORIGIN:

Lancashire

PERFECT SERVE:

Raspberries

BOTANICALS:
TBC