---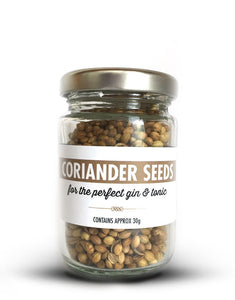 Coriander seeds are a real store-cupboard essential for anyone interested in Indian cooking.
Coriander seeds come from the coriander plant, coriandrum sativum, which is also the source of the fresh coriander herb. Such is the powerful fragrance and flavour of these small, dried seeds that they are one of the key ingredients, used either whole or ground, in many Indian dishes and are a key ingredient of the Indian spice mixture known as garam masla.
To bring out their aroma, simply dry-fry coriander seeds for a minute or two in a hot, heavy frying pan before using. Use coriander seeds in Indian dishes from chicken curries to dals, add dry-fried coriander seeds to yogurt-based raita or use in rice pulaos.
PRODUCT DETAILS

PACK SIZE:
30g
ORIGIN:
Spain