---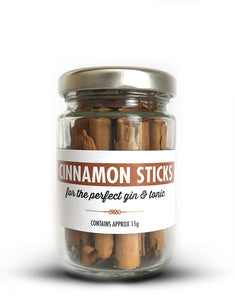 Cinnamon, the dried bark of Cinnamomum verum, has long been prized for its fragrance and flavour. True cinnamon is indigenous to the island of Sri Lanka and such was its value as a spice that over the centuries the Portuguese, Dutch and English empires all controlled the valuable trade in Sri Lankan cinnamon.
Cinnamon sticks or quills consist of rolled strips of bark, shaped into cylinders and dried. A subtle and versatile spice, it is used in many cuisines around the world. Cinnamon is used to infuse both savoury and sweet dishes, from basmati rice pilaffs and tagines to baked rice pudding and ice cream. It has an affinity with many ingredients, including apple, coffee and chocolate, so is a spice which lends itself to experimenting with.
Add a cinnamon quill to dried fruit compotes, brew it with tea, cloves and green cardamom to make soothing, aromatic Indian chai or use to make mulled wine or cider.
PRODUCT DETAILS

PACK SIZE:
15g
ORIGIN:
Sri Lanka