---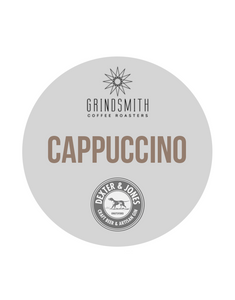 Serving only the best!
All our coffee is supplied by award-winning roasters Grindsmith Coffee. 
Founders Luke Tomlinson and Pete Gibson began in 2013 with an idea, and a Kickstarter campaign that helped fund their first site, a 5 x 3m wooden pod on Greengate Square. Since then they have grown to become one of Manchester's best coffee shops. Now, since 2018, they have been roasting their own and we are happy to say we are stoked be stocking their quality beans for our house coffee.
All our coffees are made with a double shot of coffee as standard (regular or decaf) and are available to drink in or takeaway.
Grindsmith Coffee Roasters Sixth Day Espresso

We use their Sixth Day Espresso blend. While the components of Sixth Day will change seasonally, the intention is always to combine flavours and roast profiles which emphasise sweetness and balance.
Grindsmith Coffee Roasters Columbia (Decaffeinated)

This is a delicious, clean coffee with sweet prune and caramel notes supported by a creamy body. 
99.9% caffeine free.