---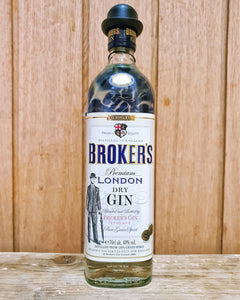 Broker's has won more top awards over the past 10 years in International competitions than any other Gin. It is distilled to a 200 old year recipe which is old as the distillery it is made in, in Warley, Birmingham.
Brokers is a quadruple distilled pure grain spirit made from English wheat that gives a smooth palate. It delivers rich and creamy candied citrus fruit peel aromas and the finish gives the perfect balance of fresh botanicals with spicy juniper and sweet ripe citrus fruits.

The distillery uses only traditional pot stills. Continuous distillation using column stills is more efficient and is used by the major brands, but pot stills are better for extracting maximum flavour from the botanicals in a traditional hand-crafted fashion.
PRODUCT DETAILS

STYLE:
London Dry
BOTTLE SIZE:
70cl
ABV:
40%
ORIGIN:
Warley, Birmingham, UK
PERFECT SERVE:
Lots of ice, premium tonic and a slice of lemon or lime.
BOTANICALS:
Juniper berries, coriander, angelica root, orris root, cassia bark, cinnamon, liquorice, nutmeg, orange peel and lemon peel.