---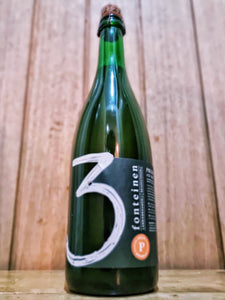 Fresh Craft Beer from our Bottle Shop and Taproom:
At one point Belgium was home to more than 300 different varieties of plum. 3 Fonteinen have been working with growers to resurrect old varieties, and even getting up on ladders themselves to hand harvest them from the trees of local gardens.

Here they start to see the fruits of their labour, with a simultaneous release of three lambics featuring their favourite varieties.
Rarer than hens teeth, this is the pinnacle of 3 Fonteinen's special release beers. 3 Fonteinen Pruim is the slow and all-natural maceration of hand-picked whole plums or zwetschgen on traditional lambik. No addition of juices, syrups or artificial sweeteners.
PRODUCT DETAILS

STYLE:
Lambic Sour
ORIGIN:
Belgium
SIZE:
750ml Bottle
ABV:
7.3%
HOPS:
TBC