---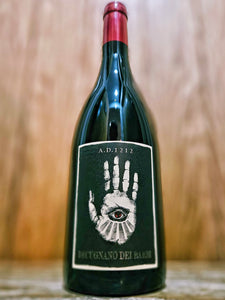 Fine Wine from Our Bottle Shop and Taproom:
Immerse yourself in the history and tradition of our most important red wine, paying homage to Decugnano's past and the crucial year of 1212 when the name of this magical place first appeared on a document. In that year, two priests, Giovanni and Pietro, were responsible for Santa Maria di Decugnano, producing wine with passion and dedication for the clergy of Orvieto.
Each bottle of this precious wine conceals meticulous winemaking, careful aging in French oak barriques, and a particularly refined blending process.
The result? An aristocratic, harmonious, and elegant wine that beautifully expresses the terroir of Decugnano. Get ready to savor a piece of history with every sip.
Syrah, Cabernet Sauvignon, Montepulciano
PRODUCT DETAIL0.

STYLE:
Serious Red
BOTTLE SIZE:
75cl
ABV:
15%
ORIGIN:
Italy
SERVE:

TBC