---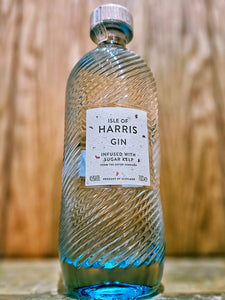 Artisan Gin from Our Bottle Shop and Taproom:
The Isle of Harris Gin is distilled, bottled, labelled by hand and sent out into the world from the small Hebridean village of Tarbert. ​
The five distillers are all local men, from crofters to former joiners, each dedicated to producing a spirit worthy of our island name. ​In the heart of beyond they transform nine specially chosen botanicals into a world-class gin, infused with Sugar Kelp and bottled in evocatively beautiful glass. ​
With the highest quality in mind, they have made an especially smooth spirit, discarding the 'Heads' and 'Tails' from the distillation which others choose to recycle. ​
Designed to capture the essence of an island, this complex and maritime spirit offers a true taste of the Scottish Outer Hebrides.
Nose: Well-defined juniper note with pine needles, immediately followed by the fresh citrus notes of bitter orange, lime and grapefruit. Develops a complex floral note of rose and wallflowers with crushed green herbs, coriander and gooseberry all underpinned by mixed spice. Sugar kelp adds to the complexity and richness with a dry maritime note.
Palate: Refreshing gin with good balance between the bitter juniper and pine and the sweet fruit flavours of mango, grapefruit and orange. A green herb flavour has developed with crushed coriander. Distinctive and smooth with a dry, flinty taste.
Finish: Overall a long, clean finish. As the juniper and citrus peel notes fade away, sweet vanilla and black pepper remain with a gentle reminder of the sea.

PRODUCT DETAILS

STYLE:
Contemporary
BOTTLE SIZE:
70cl
ABV:
45.0%
ORIGIN:
Isle of Harris, Scotland
PERFECT SERVE:
We recommend that you try this gin 'on the rocks', adding a few drops of Sugar Kelp Aromatic Water and either a cut piece of pink or red grapefruit or simply a wedge of fresh lime. If you still prefer it long, add a little tonic water.
BOTANICALS:
Juniper, Coriander, Angelica Root, Orris Root, Cubebs, Bitter Orange Peel, Licorice and Cassia Bark.